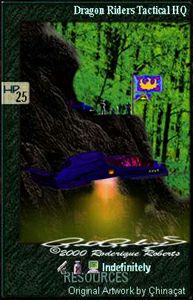 Hello and welcome to my ChronX™ card page. These are ideas that i manifested for the Collector Card Game ChronX™. I welcome any response from Genetic Anomalies on these ideas, and would love to work with them on any of their future endeavours.
Email: Neon Knight ¥
These images are one year old now, and not up to par with my artistic ablilities and looking back i see where some cards are overly powerful, but this game is full of powerful cards, so without further adu, here they are.
The above card never made it into the game. It is designed for The Dragon Riders, if they were to have won Buster Nights II
The artwork is all original by myself, Roderique Roberts (aka Neon Knight ¥) and ©1999,2000,2001. ChronX™ is registered trademark of Genetic Anomalies. Just click on a thumbnail to see the card.